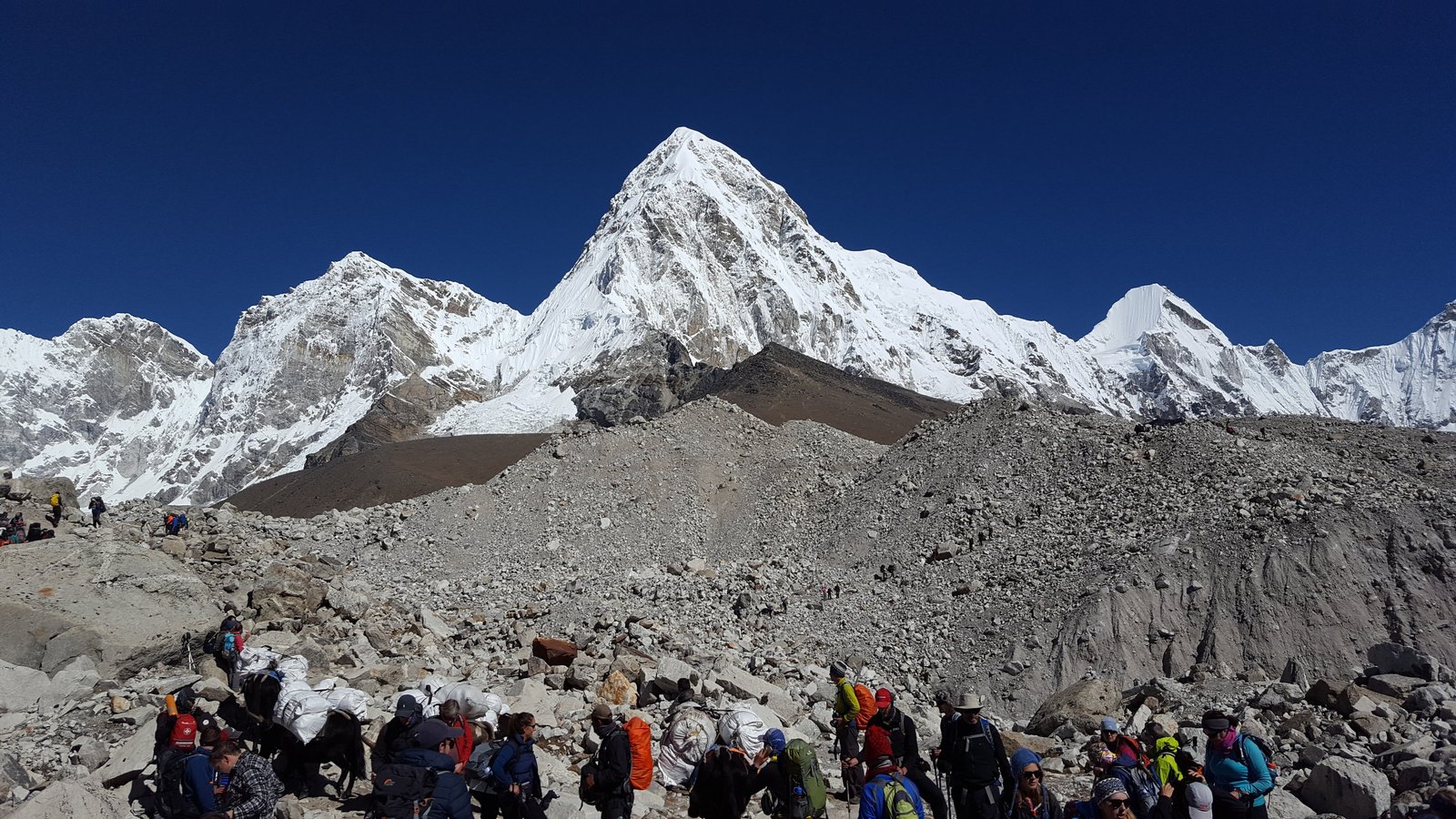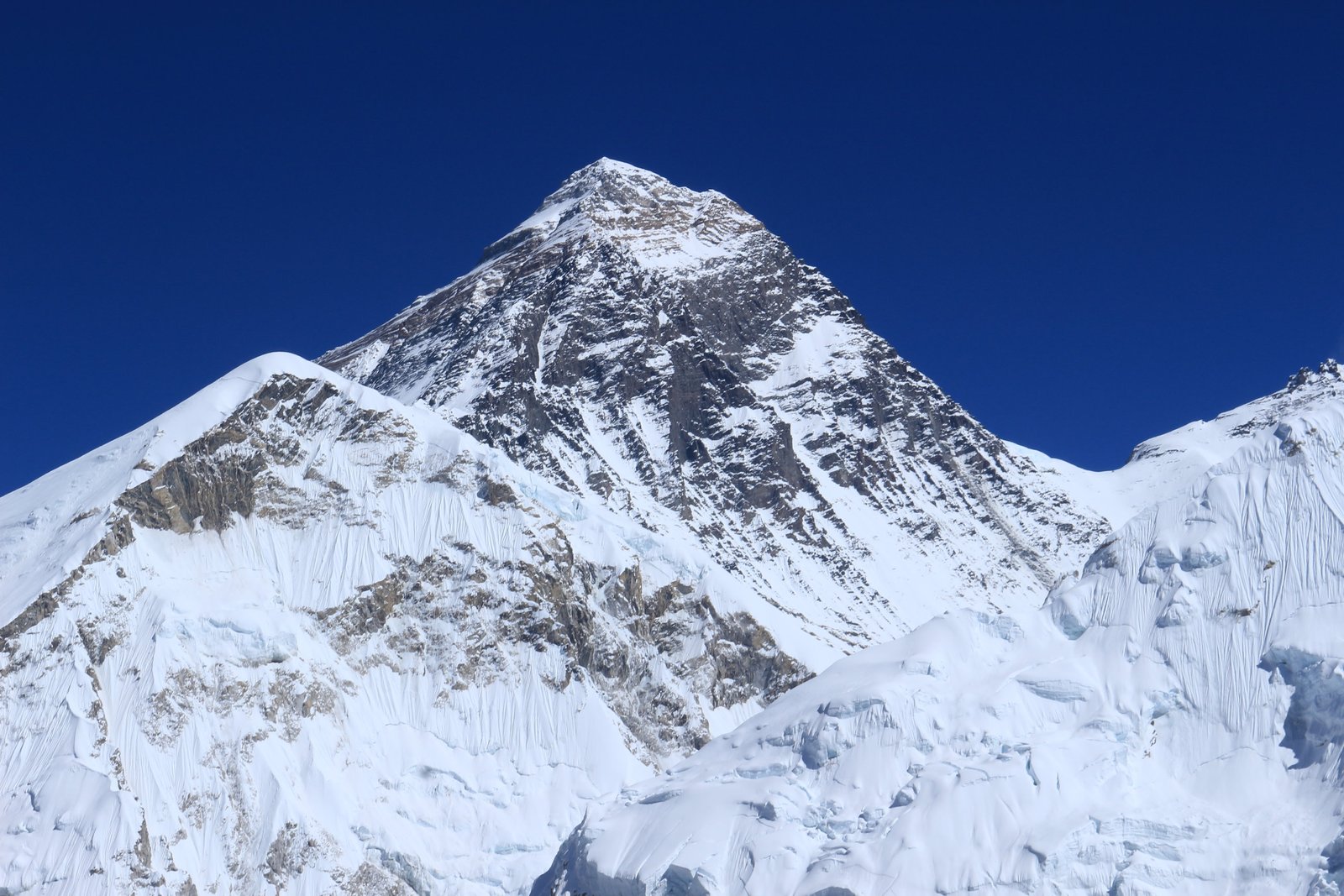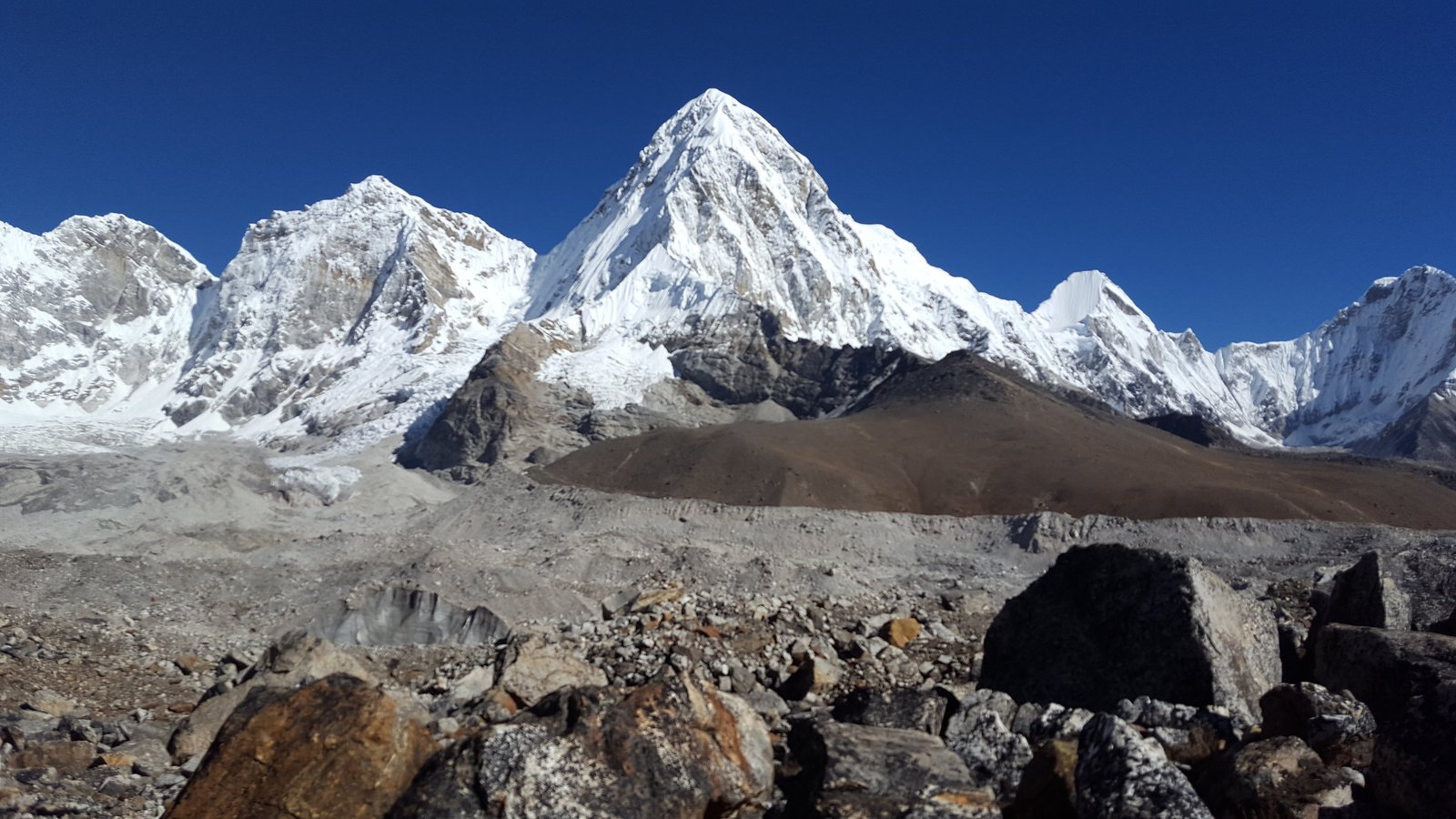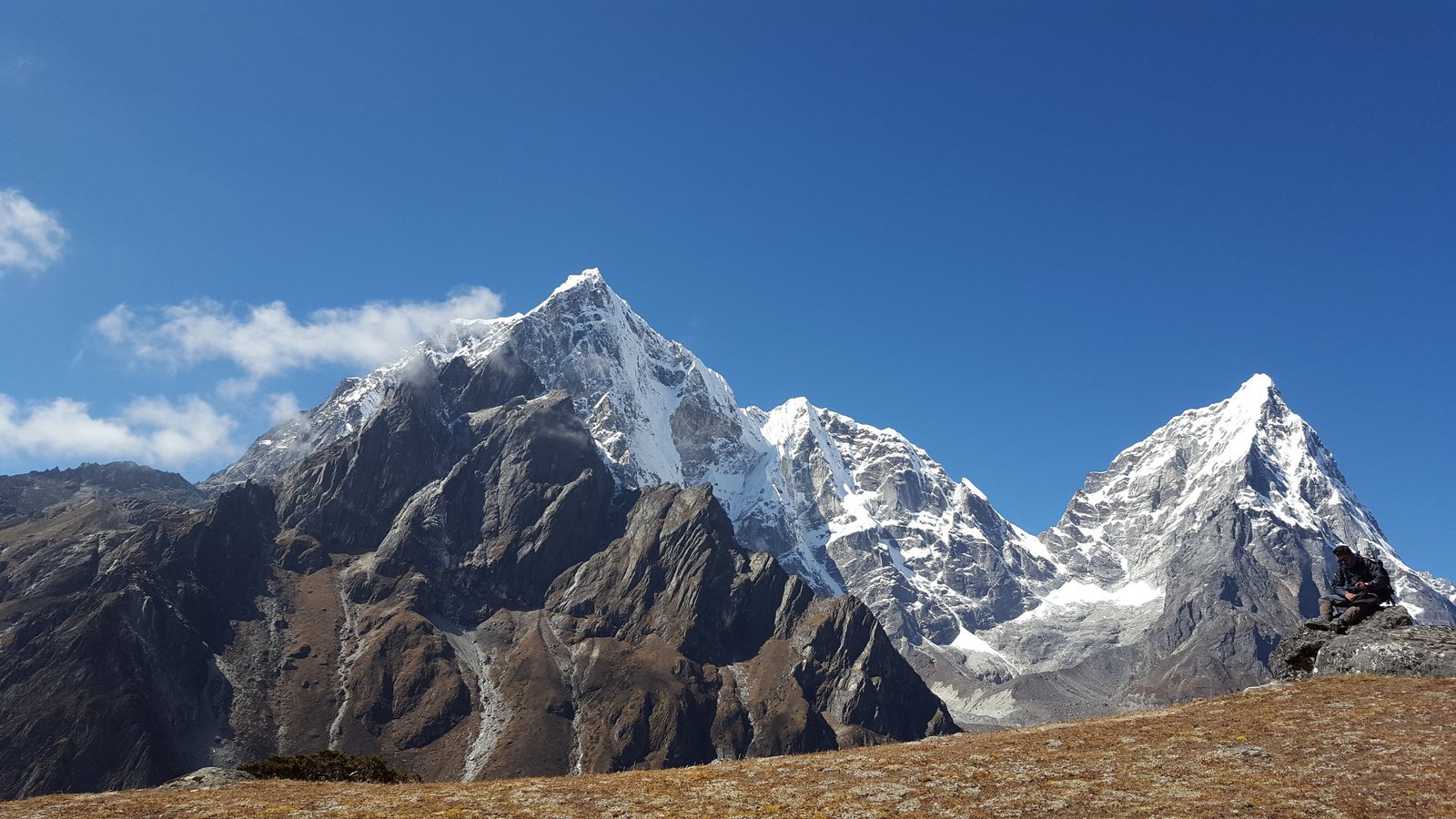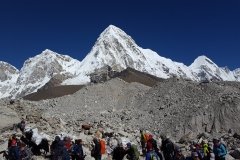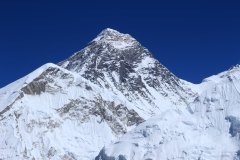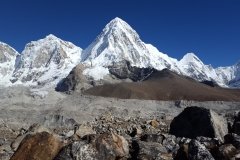 ---
Description
Everest Base Camp Trek takes you to the trails used by Tenzing Sherpa, Edmund Hilary and many mountaineers who set out to conquer the tallest peak of the world before and after they conquered Everest. Thus trek to the Everest Base Camp has plenty of legends, myths, stories, sheer excitement and a sense of satisfaction. This, for many like you around the world, is a journey of a lifetime and will never cease to vanish from your memory. Thus it is no surprise that Everest Base Camp Trek is among the most searched trekking destination among trekkers worldwide. This Mount Everest Base Camp Trek is designed to fulfill your dream of traveling the historic route to the base of the world's highest mountain while spending time in a Sherpa land. The team of NorthStar Voyage specialized in the Mount Everest trekking who provides you first-rate trekking experience offers awesome close up scenario of Mount Everest from top of Kalapathar height (5,550 meters) all along everlasting view of Himalayan mountain peaks and chance to appear in the base camp of Mount Everest (5,360 meters), a gateway to summit the Mount Everest.

Trip Facts
Trip Route: Lukla–Namche–Gorakshep–EBC–Back
Max-Altitude: 5545m
Grade:Moderate
Trip-Accommodation:Tea House/Lodge
Transportation:Private Vehicle & Flight
Best Season:Autumn/Spring
---
Package Detail
After the arrival of you're at Tribhuwan International Airport, our customer receiving member will greet with attractive preparations and will drive you up to the booked hotel from the means of your comfort. If your arrival is accurate as planned then, we will also take you to well-hygienic restaurant along with opportunity to take a short glimpse over the taste of foods, entertaining dances, etc. of different ethnic castes of Nepal and if the arrival is late then we may do this in next day. Next day morning, you will be taken to the head office and you will be told about your trekking routes, activities, destinations and their time periods briefly. Then, we will introduce you to your trekking guide. .

In day second , you will taken to a full day tour of Kathmandu city after your breakfast where you will be briefly told about each destination centers like about their history, area, founder, time of establishment, etc. and also your extra curiosities on certain sectors by trekking guide. You will be taken to places that are included in world heritage sites by UNESCO like Boudhanath, Swayambhunath, Pashupatinath, etc. After finishing the city tour, we will meet again to check your clothing and trekking equipment (sleeping bag, jacket and trekking boots). We will actually be spending nights also in Kathmandu

After breakfast, we will take a domestic flight to Lukla airport in a domestic airlines. This is the point from which we start our trek. The flight will take an estimated 45 minutes. The best 45 minutes of your life is accompanied by mind staggering views of Mighty Himalayas, Mt. Everest, Mt/ Kanchanjunga III, Mt. Makalu, etc. After we land in the Lukla Airport, we begin our trek. We will head towards Phakding(2610m). The trek takes about 3 hours to complete and we will stay at a local lodge in Phakding.

This day, we will have an early start. We follow the trail provided by the Dudh Koshi river as we ascend throught the steeps and to the Namche Bazaar the headquarter of the Solukhumbu district, which is a perfect example of dream land for tourists. We will also cross the Hillary suspension bridge in our way. Along the way, we will be accompanied by high mountains, interesting Buddhist culture of the local Sherpa People, natural beauty and many more. We will stay at a local lodge or guest house in the Namche Bazaar.

Since you and your body might have never experienced such a high altitude environment till now, you have to give your body the chance to adapt with the new environment. So, we spend this day acclimatizing to the higher elevation as altitude sickness can sometimes be quite serious and dangerous. The day will not be spent just lying around (unless you want to), but we will hike to Everest Viewpoint for a magnificent view of Mt. Everest. From here, you will see the spectacular peaks of Everest, Ama Dablam, Nuptse and many more. It is only a two hour hike to Everest Viewpoint and we will spend a few hours there enjoying the view as well as having lunch. We will return to Namche Bazaar where you can spend the afternoon exploring this delightful village. There is a lot to see here. We will spend the night in our local guest house.

We start trekking after a hearty breakfast with a destination of what could be considered the spiritual center of the Everest Region: Tengboche. Here there is the highest Buddhist monastery in the world. It is a place filled with mystery and spirituality. One of the highlights is the preserved footprint of St. Milarepa, one of the most famous of the Buddhist lamas who brought Tibetan Buddhism to Nepal. We will overnight in a mountain lodge. Trekking time is 7 hours

This day, we will trek from Tengboche to Pheriche. Today's trail takes us upwards while enjoying close-up views of the awesome and splendid high peaks of the Himalayas. We cross the Imja Khola River today and make our way to the scenic village of Pheriche where we will spend the night in a mountain lodge. Trekking time is 8 hours

With these high elevations, it is important to let your body adjust and avoid altitude sickness. Today will be some short hikes around the village to enjoy the scenery and overlooks of the mountains.

Today, we will trek to Lobuche from Pheriche, which might take approximately6 hours. Our trek takes us upwards as we are getting nearer to EBC. There are stunning views along the way as we gain in altitude. Tonight we will spend the night at a mountain lodge in the beautiful mountain village of Lobuche.

Today is a big day for our trek because we reach our destination today: EBC (Everest Base Camp). We reach to the place where Sir Edmund Hillary and Sir Tenzing Norgay Sherpa made history by being the first men to climb the highest point of the world in 1953. We can't go any farther without a climbing permit, but we can explore EBC and enjoy the stunning views from this location. We will spend the night in Gorak Shep at a mountain lodge.

Today, we trek to Kalapatthar which lies at an altitude of 5545m. We reach the highest elevation today at Kalapatthar which will afford us the best view of Mt. Everest. We will spend a little time at Kalapatthar before moving on with the goal of Pheriche village where we will spend the night.

This day, we will have a short trek as we try to descend to Dingboche. On the way, we will pass through a famous sherpa village named Kyangjuma. We cross the Imja Khola River and will stop again at the monastery at Tengboche. There will be many places to see the snowcapped peaks of Ama Dablam, Nuptse, Thamserku, Lhotse as well as Mt. Everest. We will stay at a mountain lodge in Kyangjuma.

Today, we continue our trek by further descending to the Village of Monjo. You will spot variety of wildlife and vegetation including the rare blue sheep, snow leopard, colorful pheasants, mountain goats and more. There are some steep places we will descend as we cross again the Dudh Koshi River and officially exit from Sagarmatha National Park.

Today is the last day of our trek as our last destination Lukla will be welcoming us through its warmthness. After reaching Lukla, we will stay at a loddge or a hotel and wait for tomorrow. Today, we will only trek for maximum of 6 hours.

We will fly early morning to Kathmandu where you will have a free day to explore the city, do some shopping or just have relax.
Service Included
– International and domestic airport pickup and drop service
– Hotel accommodation in Kathmandu hotel category in 3 star in double
occupancy
– Welcome and farewell dinner
– Sightseeing throughout English Speaking guide
– Sightseeing entry fee and transport
– Trekking conservation permit
– Trekking Register Certificate
– Equipped and insured trekking porter (one porter in between 2 person)
– Experienced and first aid trained license holder trekking guide
– Tea House accommodation during the trek in double occupancy
– All meals during the trek (B=breakfast, L=Lunch, D= Dinner)
– Breakfast will be served with tea
– Flight ticket; Kathmandu to Lukla and Lukla to Kathmandu
Service Excluded
– Drinks (including tea) and Bar Bill (beverage)
– Helicopter evacuation/rescue incase of emergency
– Personal insurance
– Personal use trekking equipment
– Tipping to guide and porter
– Domestic airport tax (USD 3/ Rs 170 p.p each flight)
– Donation to the local people.
Equiment suggested
1. Heavy-duty duffel bag (100 liters; no wheels or rigid handles)
2. Lightweight, stowable duffel bag
3. Luggage locks
4. Luggage tags
5. Travel wallet
6. Passport/money belt
7. Sleeping bag liner
8. Travel plug adapters (C, D and M)
9. Electrical converter
Travel Clothing
1. Wicking, quick-dry boxers or briefs
2. Wicking, quick-dry sports bra (for women)
3. Synthetic or wool T-shirt
4. Long-sleeve, travel-friendly shirt
5. Lightweight, travel-friendly pants
6. Bathing suit (optional; for hotel pools)
7. Casual shoes
8. Midweight wool or synthetic socks
Trekking Equipment
1. Day pack (25–35 liters)
2. Pack cover
3. Sleeping bag comfortable to 0°F (dependent upon season, weather forecast and personal preference)
4. Waterproof hiking boots
5. Camp shoes (down booties or running shoes)
6. LED headlamp with extra batteries
7. Trekking poles
Trekking Clothing
1. Wicking, quick-dry boxers or briefs (3)
2. Wicking, quick-dry sports bra (for women)
3. Heavyweight long underwear bottoms
4. Heavyweight long underwear top
5. Midweight long underwear bottoms
6. Midweight long underwear top
7. Wool or synthetic T-shirts (2)
8. Midweight fleece or soft-shell jacket (2)
9. Midweight down or synthetic parka with hood
10. Convertible hiking pants
11. Fleece pants or insulated pants
12. Lightweight waterproof/breathable rain jacket
13. Lightweight waterproof/breathable rain pants
14. Midweight fleece gloves or wool gloves
15. Midweight waterproof gloves or mittens
16. Liner gloves
17. Midweight fleece/wool winter hat
18. Sun hat
19. Midweight wool or synthetic socks (3 pairs)
20. Liner socks (optional)
21. Glacier sunglasses
22. Neck gaiter, balaclava, Buff or bandana
23. Gaiters (for winter; optional)
Personal Items
Many of the following items are optional; tailor the list to suit your personal needs.
1. Water bottles (two 1-liter or one 1-liter + hydration reservoir)
2. Hydration reservoir (2-liter; optional)
3. Water bottle insulating sleeves
4. Watch with alarm
5. Video / still camera
6. Spare camera battery and charger
7. Spare camera memory card
8. Camping pillow
9. Camp towel
10. Insect repellent
11. Pocket knife or multi-tool
12. Personal first-aid kit
13. Eye shade
14. Ear plugs
15. Hand and toe warmers
16. Journal
17. Pen
18. Book
19. Small binoculars
20. Cash (Nepalese rupees and U.S. dollars in small denominations)
21. Credit card
22. Cell phone in waterproof case
23. Cell phone charging cable
24. Local SIM card for cell phone (purchase in Nepal)
25. Portable power device (for recharging phone or other electronics)
26. Large garbage bags to keep items dry (2; optional; white recommended)
Toiletries
Many of the following items are optional; tailor the list to suit your personal needs.
1. Toothbrush (travel size)
2. Toothpaste (travel size)
3. Toilet paper
4. Personal wipes
5. Women's hygiene items
6. Pee bottle
7. Hand sanitizer
8. Sunscreen (SPF 30 or higher)
9. Lip balm (SPF 30 or higher)
10. Shampoo and conditioner
11. Biodegradable soap
12. Deodorant
13. Dental floss
14. Razor and shaving cream
15. Skin lotion
16. Spare eyeglasses or contact lenses
17. Non-prescription medications (pain reliever/fever reducer, antibiotic ointment, allergy treatment, etc.)
18. Prescription medications; medications for traveler's diarrhea, altitude sickness
Food
Guide companies generally provide breakfast, dinner and drinking water during your climb. You'll want to add to this by bringing lunch, snacks, drink mixes and energy foods. Check with your guide company to see what food is provided. You can also buy food locally in Kathmandu, Lukla, or at any teahouse you pass. Selection will be more limited and more expensive as you become more remote.
1. Energy bars
2. Energy gels
3. Electrolyte replacement drink mix
4. Snacks (cookies, GORP, Snickers, etc.)