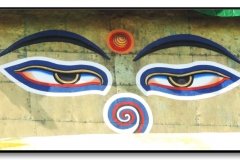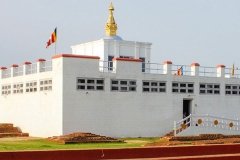 ---
Description
The 'Lumbini Buddhist Circuit Tour' is visual aid to life of Buddha and development of Buddhism. While it is a pilgrimage tour in one hand, in the other hand it displays the great archaeological triumph of mankind. There are 62 archaeological sites in Lumbini region exhibiting different events in Buddha's life. The tour includes visit of Lumbini development zone, Kapilavastu (the palace where Buddha spent 29 years as price Siddhartha), Kudan (first monastery built to house Buddha and his followers), Ramagram stupa (Only unearthed Buddha relic stupa), Sagarhawa and other important sites related with Buddha.
---
Package Detail
Duration : 1 day

Arrival at kathmandu and welcoming program

Duration : 1 day

The places of visit include Kathmandu Durbar Square, Pashupatinath, Boudhanath and Swayambhunath. Stay overnight at hotel in Kathmandu.

Brief description of the places:

Kathmandu Durbar Square

Kathmandu Durbar Square is one of the most popular tourist destinations as enlisted in World Heritage Sites. Clustered around the central Durbar Square are the old Royal Palace (Hanuman Dhoka), numerous interesting temples, the Kumari Chowk or Kumari Bahal (House of the Living Goddess) and the Kasthamandap (House of Wood) from which Kathmandu derived its present name. An exquisitive exploration in Durbar Square reveals the ancient art and architecture of Nepal.

Pashupatinath Temple

Situated 5 kilometers east of Kathmandu City, Pashupatinath temple is one of the holiest temples dedicated to Lord Shiva. Situated amidst a lush green natural setting on the bank of the sacred Bagmati river, the temple built in pagoda style has jilted roof and richly carved silver doors. Visitors are permitted to view the temple from the east bank of Bagmati River, as entrance to the temple is strictly forbidden to non Hindu. Pashupatinath is the center of annual pilgrimage on the day of Shivaratri which falls in the month of February/March.

Boudhanath Stupa

This Stupa, situated 8 kilometers east of Kathmandu city, is one of the biggest stupa in the world. It stands with four pairs of eyes in the four cardinal direction keeping watch for righteous behavior and human prosperity. This Buddhist Stupa was built by King Man Deva at the advice of the Goddess Mani Joiner. It is built on an octagonal base inset with prayer wheels. The shrine is encircled by houses of Lamas or Buddhist priest.

Swayambhunath Stupa

Swayambhunath is located approximately 4 kilometers and this Buddhist Stupa is said to be 2000 years old. The Stupa which forms the main structure is composed of a solid hemisphere of brick and earth supporting a lofty conical spire capped by a pinnacle of copper gilt. Painted on the four sided base of the spire are the all seeing eyes of Lord Buddha. This hill is a mosaic of small Chaityas and Pagoda temples.

Duration : 1 day

Brief description of the places:

Patan Durbar Square

Patan Durbar Square, like its counterpart in Kathmandu, is an enchanting mélange of palace buildings, artistic courtyards and graceful pagoda temples. Listed as a World Heritage Site, the former royal palace complex is the center of Patan's religious and social life, and houses a museum containing an array of bronze statues and religious objects. One remarkable monument here is the 17th century temple dedicated to the Hindu god Krishna, built entirely of stone.

Bhaktapur (1,401m) covers an area of four square miles. Bhaktapur which means the city of devotees still retains a medieval charm and visitors to this ancient town are treated to myriad wonders of cultural and artistic achievements. The past glory of the Malla rule continues to be reflected at Durbar Square. Pottery and weaving are the traditional industries. Bhaktapur is famous for woodcarving and the traditional topi or cap. The city lies about 14 km east of Kathmandu. The places of interest include Bhaktapur Durbar Square, the National Art Gallery, Nyatapola Temple, Bhairavnath Temple, Dattatreya Temple and Dattatreya Square.

Bhaktapur Durbar Square The main square of the city contains innumerable temples and other architectural wonders such as lion gate, the golden gate, the statue of King Bhupatindra Malla, Dattatraya Temple, etc.

A magnificent statue of King Bhupatindra Malla in the act of worship is placed on a column facing the palace. It was listed in the UNESCO world Heritage Monument List in 1979.

Palace of 55 Windows Being built by King Yaksha Malla in 1427 A.D. and remodeled by King Bhupatindra Malla in the 17th century, the intricately carved balcony and windows are a masterpiece of wood carving.

Nyatapola Temple This five storied Pagoda Style temple was built by King Bhupatindra Malla in 1708 A.D. It is well known for its massive structure and subtle workmanship. It is the tallest pagoda structure in Kathmandu.

Duration : 1 day

Drive from Kathmandu to Chitwan.Enjoy some jungle activities in Chitwan National Park. Stay overnight at lodge in Chitwan.

Duration : 1 day

During your stay in National Chitwan Park you will enjoy the following activities:

Bird Watching: For the bird watchers, it is a paradise island with over 450 species of domestic and exotic bird, as well as migratory birds. Many species are endangered; for example, the Great pied hornbill, Bengal Florican, Peregrine falcon, lesser adjutant storks, etc. A bird watching trip will be a memorable experience

Nature Walk: Our experienced naturalist will accompany and introduce you to more specialized habitats. This is the ideal opportunity to explore and experience at a closer compound of the beauty of wildlife. The authority of the naturalist must be closely followed as to prevent any risks from the attacks of the wildlife animals.

Elephant Breeding center: This is the first Elephant breeding center in Asia. You can see baby elephants socializing with their parents and other babies. This center is government owned, and its purpose is to raise, train and tame the baby elephants.

Village tour: Excursion in Tharu village will grant you an exhilarating experience. Tharus are the indigenous inhabitant of Terai. We offer guided cultural tours to meet the people and experience their traditional self-sufficient way of life.

Cultural Program: In the evening you will get an opportunity to be a part of Tharu folk dance. The drummers and symbolic stick dancers perform traditional movements and invite guests to join them in this rhythmic display. Such cultural shows performed by Tharus will be an unforgettable experience. The Tharus in traditional colorful costumes are sure to entertain you.

Elephant back safari: Sitting at the back of the elephant, you can view the wildlife of the area in their natural habitat.

Elephant Bathing: Your guide will take you to the specific place where you can observe elephant bathing.

Crocodile Walk: One more option is to go for crocodile walk. It goes through the grassland and forest along the bank of Rapti / Narayani River.

Canoe Trip:You can enjoy the canoe trip either on Rapti River or Budhi Rapti River which borders the National Park. You can see two types of crocodiles, the Gharial and Mugger basking on the river bank.
Service Included
5 night hotel accommodation in Kathmandu on CPAI plan.
2 night hotel accommodation in Chitwan on Full Board Basis.
2 night hotel accommodation in Lumbini on CPAI basis.
2 night hotel accommodation in Pokhara on CPAI basis.
All Land transfers Kathmandu-chitwan-lumbini-pokhara by tourist vehicle.
All sightseeing as per proposed itinerary.
City entrance fees.
Arrival and Departure.
English speaking Guide.
Service Excluded
All meals except Chitwan.
All personnel expenses not mentioned above.